15 SMART HEALTHY SNACK IDEAS FOR TRUCKERS
Healthy snacks for truckers are a must when on the road.
It can be a real  challenge for professional drivers to eat nutritionally sound foods when away from home, especially snack foods.
The tight schedule, being away from home, finding places to buy healthy foods and snacks, can make eating healthy an ongoing challenge for the truck driver.
It's always best if you're able, to take as many healthy foods from home as you can.
It's less expensive, you know exactly what the ingredients are and it's far less hassle.
However, if you have taken the time to become familiar with what constitutes nutritious snacks, you can find many options at the big box stores like Walmart, Target and any grocery store. It's not difficult to do.
15 EASY HEALTHY SNACKS FOR TRUCKERS
Nutrient dense foods are a super smart option for the professional truck driver.
Healthy snacks for truckers can be simple everyday foods. Just a matter of choosing the RIGHT FOODS.
These snack ideas require a minimal amount or no preparation time. Perfect for the busy trucker on the move!
VEGETABLES – There's nothing better for your body, than raw veggies!!! Celery, carrot sticks, zucchini, broccoli, cucumber with a small amount of peanut butter or almond butter, or some other nut butter. Just don't overdo the nut butter as nuts are high in saturated fats.
You can eat as many veggies as you like…for most people, they are 'free' foods….. pack them in zip locks bags or stackable containers for easy access. Pack your nut butter in portioned containers at home if you can, or if it's used from the jar, that's good too…. just not too much.
Tip: Don't go for the low fat or low sugar foods. Often, they are low in one ingredient & high in something else that is bad for you.
HUMMUS – Veggie sticks paired with hummus: an excellent source of protein and fiber. You can buy hummus at nearly any grocery store or even make your own at home. It's super easy to make. Smash up beans: choose from one of chick peas, black beans or white kidney beans or your favourite legume. Then add some olive oil to make the mixture smooth, cumin, lemon juice, fresh garlic and a bit of sea salt and that's it. Awesome choice and very nutritious.
FRESH FRUIT – Apples, pears or chopped fruit, travel well. You can buy fruit cups, but be sure to buy them packed without sugar syrup. You just don't need that extra sugar. Berries of all sorts are nutritious. Melons are a good source of quality water. TIP:  Eat fresh or dried fruit on an empty stomach, for easier digestion.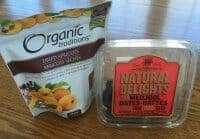 DRIED FRUIT – Dried fruit is a good option, as it travels well. Limit your intake as it is a source of concentrated sugar. Good choices are dried apples, apricots, or dates.
Too much FRESH OR DRIED FRUIT is NOT HEALTHY… it will make your blood sugar spike and crash! No one needs that.
NUTS AND SEEDS – A handful of nuts: Brazil nuts, almonds, raw cashews, hazelnuts.
Preferably choose unsalted or low salt. Roasted nuts have great flavour.  Pumpkin seeds, sunflower seeds are high in zinc: great for men's health.
Although nutritious, nuts are high in fats, so don't over indulge!  Nuts are also hard to digest, so don't challenge your digestive system by eating too many.
HOMEMADE TRAIL MIX – Make your own trail mix. Choose your favourite nuts and seeds to include. Try adding some dried cranberries or chocolate chips (dairy free chips are EQUALLY as tasty) for a really nice little sweet taste. Organic coconut pieces are a fabulous addition to a trail mix. Loaded with goodies and sooooo tasty!  Just don't overdo the addition of 'sweet ingredients'…. great to eat for protein boost at any time of day or night.
CHEESE – SMALL portions of cheese or cheese strings are loaded with protein….. I repeat, SMALL PORTIONS!
BOILED EGGS – Buy the best quality eggs you can find. They are packed with nutrition. Peel them after cooking and pack them carefully paying attention to proper refrigeration.
RICE CAKES – with nut butter or nut butter and a little apple butter, make for a terrific snack.
JERKY – Varieties of jerky WITHOUT nitrates and junk can be decent snacks when you're on the fly.
MUFFINS – Preferably homemade muffins with a small dob of nut butter or cheese. Try to take along homemade muffins if you're able. The ones offered in coffee shops and grocery stores are usually quite high in nasty oils and sugars.
For homemade recipes, be sure to add oats, seeds, raisins, some nuts, for added protein and benefit.
GREEK YOGURT – Preferably without the fruit as it adds sugar but eating Greek yogurt with added fruit is still better than eating a bag of chips or a chocolate bar! Greek yogurt has higher protein than regular yogurt. A small container can have from 8-12 grams of more of protein!
COTTAGE CHEESE – Small containers of cottage cheese has about 14 grams of protein!
PROTEIN DRINKS – A simple 'protein drink', can provide loads of top notch nutrition, and can have as much as 27 g of protein… about 1/2 of the daily protein requirement for the average male. They can be an EXCELLENT way to get added vitamins and minerals into your diet, especially for truck drivers, who are challenged by their on the road life style.  Tip: A scoop of HEMP HEARTS can be added to your smoothie: extra protein boost & Omega 3's!
PROTEIN BARS –  Protein bars can be found at grocery stores, natural food stores or you can make your own. BEWARE: All protein bars are NOT created equal! They can be very high in fats and sugars so read the label!
WATCH THE VIDEO VERSION!
MORE HEALTHY SNACK TIPS, JUST FOR TRUCK DRIVERS
PROTEIN – It's important to get sufficient protein in your diet. If you're a big meat eater, chances are you are getting enough protein. However, if meat is your main source of protein, it is very acidic and can be hard on the body.
It's fine, however, try to mix up your choices, as there are lots of other nutritious protein choices.
Protein is brain food…. it fuels the brain, much like the diesel fuels your truck! It upgrades your focus and concentration and gives you energy too. A coffee doped up with cream and sugar is about the worst thing you can have when driving, especially on an empty stomach. You get that needed boost, but then there's the crash.  This does not happen with protein foods….. so a much better choice.
By choosing foods loaded with nutrients, you are getting better value from your food, while giving your body what it needs to keep you healthy, and give you energy and strength, rather than suck your energy away and make you tired.
Have healthy TASTY snacks hand
Take along snacks which  are easy to store and travel well when on the road, to avoid food cravings for junk food.
Always have a top quality protein powder with you on the road: a great snack when pressed for time or when you need an energy boost!
It's not always possible to get nutritious snacks when on the road. But, always make the best choices you can when on the road. Take along snacks from home, for the best results. Just do the best you can.
 Pay attention to any special dietary needs you may have. (Eg. sugar restriction, fat or calorie restricted diet)
Good nutrition helps you to concentrate and be focused which is so important when behind the wheel.
 It takes a little bit of planning but it can be done.
Healthy eating for truckers is so important. Don't become a victim of the 'hurried life style'. Take time to care for yourself.